I'm linking up with some other blogs to share
Five on Friday with the Ferrell boys and me!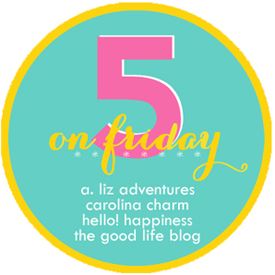 [ one ] Shopping
I don't like to shop, but when I get to shop with my friend, Laycee, it's like one of my favorite things to do! In fact, she's a very good shopper. She can figure in her head and quickly determine the best deals out there to buy. Love that about her!
This past Sunday, we had to deliver a rack to one of Dave's customers before Christmas and it just happened to be near Birmingham, Alabama, and the Leeds outlet mall . . . so Laycee and I made it a work/shopping trip! Found something for Dave! Ha!
More likely Dave will get this . . .
Of course, I must have been really good this year cause Dave got me a super great gift. . . .
I've been having the most fun taking pictures of everything!
Mostly pictures of Shane . . . in every possible pose . . . what a nut!
[ two ] Sunday School Craft
I've been subbing in Sunday School for one of my friends that had surgery and is recovering. I get to teach the 1st through 3rd grade classes. We've been having a good time together. :)
I decided we would make a craft the Sunday before Christmas and found a cute nativity idea on a website. My class and the older class combined together to make these cute nativity crafts.
[ three ] Christmas Eve . . .
with my family at my house this year. No stress there! Ha!
Separate post to follow with details on that fun family time!
[ four ] Wrapped presents
Santa wrapped all the boys presents this year. . . for the first time.
The boys loved tearing through the paper to see what Santa brought them!
[ five ] Energizer Bunny
Usually on Christmas Day, we drive up to Pontotoc to spend the day with Dave's family, but Dave had to work on Christmas Day so they put off their Christmas celebration until this coming Saturday. So what to do with this day that all the stores in town are closed and the house is strewn and covered with empty boxes and toys?!?
You invite your mother over to help you clean and organize your children's rooms to make room for the new toys they got from Santa! She also brought my daddy with her the first day to have him hang the boys' baseball bat shelves that he made for them.
My mother a/k/a the energizer bunny doesn't stop until the job is done! She's been here for two days now cleaning, culling, and chastising boys along the way! A slice of petrified pizza in Shane's bathroom cabinet almost sent her over the edge! She's coming back today to help me with my room. I'd be lying if I said I wasn't a little scared!
In fact, she just got here . . . She's in the kitchen fixing a pizza for the boys right now and . . . oh no! She just stuck her head in my bedroom door and shook her head. I'm in trouble, folks! :D
So there's my Five on Friday! Hope you've enjoyed this quick look into this very busy past week with . . .
the Ferrell boys and me!